Expert Staff
The background and training of our staff makes WK Fitness & Wellness Centers special. While some fitness centers are run by fitness enthusiasts who like to exercise, we believe our members deserve more. At our centers you'll find men and women who are professionally trained in the methods and mechanics of fitness. They include American College of Sports Medicine certified Fitness Specialists and Clinical Exercise Physiologists with the academic training and knowledge to help members at every stage of their lives and health. And when you join, one of them will provide you with a customized fitness assessment and work with you to establish and reach your wellness goals.
Learn more about our Fitness Specialists:
Mike Posey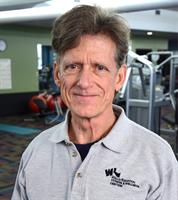 Mike holds a B.S. in exercise science and has 16 years of experience in the fitness industry. He is certified by the American College of Sports Medicine with their "Fitness Specialist" designation and is also a certified pool operator.
Frequently Asked Questions