Expert Staff
The background and training of our staff makes WK Fitness & Wellness Centers special. While some fitness centers are run by fitness enthusiasts who like to exercise, we believe our members deserve more. At our centers you'll find men and women who are professionally trained in the methods and mechanics of fitness. They include American College of Sports Medicine certified Fitness Specialists and Clinical Exercise Physiologists with the academic training and knowledge to help members at every stage of their lives and health. And when you join, one of them will provide you with a customized fitness assessment and work with you to establish and reach your wellness goals.
Learn more about our Fitness Specialists:
Arrick Mills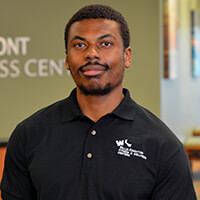 Arrick graduated from LSUS with a bachelor's in Community Health: Physical Activity. As a personal trainer of 7 years, Arrick is certified through ACSM (American College of Sports Medicine). His exercise philosophy is centered around body weight and free weight exercises. It is his belief that learning how to control your body weight in multiple planes of motion is an important factor to lowering your risk of injury with age and enjoying life to its fullest by learning how to balance, engage your muscles properly, and maintaining awareness of your position at all times. All that can stop you is you and you alone, but by pushing yourself past your limits, you will become the best version of yourself both mentally and physically day after day. Come see Arrick at Willis-Knighton Pierremont Wellness Center and he'll accompany you on your fitness journey to help you reach your goals effectively and safely.
Frequently Asked Questions